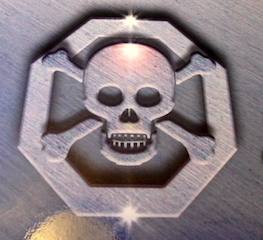 It's been seven hours and fifteen days.
No. Wait. It's been seven years and much more than fifteen days.
But nothing compares to the relief of finishing the 4th edition of The Anti-Hacker Toolkit. The book with the skull on its cover. A few final edits need to be wrangled, but they're minor compared to the major rewrite this project entailed.
The final word count comes in around 200,000. That's slightly over twice the length of Hacking Web Apps. (Or roughly 13,000 Tweets or 200 blog posts.) Those numbers are just trivia associated with the mechanics of writing. The reward of writing is the creative process and the (eventual…) final product.
In retrospect (and through the magnfying lens of self-criticism), some of the writing in the previous edition was awful. Some of it was just inconsistent with terminology and notation. Some of it was unduly sprinkled with empty phrases or sentences that should have been more concise. Fortunately, it apparently avoided terrible cliches (all cliches are terrible, I just wanted to emphasize my distaste for them).
Many tools have been excised; others have been added. A few pleaded to remain despite their questionable relevance (I'm looking at you, wardialers). But such content was trimmed to make way for the modern era of computers without modems or floppy drives.
The previous edition had a few quaint remarks, such as a reminder to save files to a floppy disk, references to COM ports, and astonishment at file sizes that weighed in at a few dozen megabytes. The word zombie appeared three times, although none of the instances were as threatening as the one that appeared in my last book.
Over the next few weeks I'll post more about this new edition and introduce you to its supporting web site. This will give you a flavor for what the book contains better than any book-jacket marketing dazzle.
In spite of the time dedicated to the book, I've added 17 new posts this year. Five of them have broken into the most-read posts since January. So, while I take some down time from writing, check out the archives for items you may have missed.
And if you enjoy reading content here, please share it! Twitter has proven to be the best mechanism for gathering eyeballs. Also, consider pre-ordering the new 4th edition or checking out my current book on web security. In any case, thanks for stopping by.
Meanwhile, I'll be relaxing to music. I've put Sinéad O'Connor in the queue. It's a beautiful piece. And a cover of a Prince song, which reminds me to put some Purple Rain in the queue, too. Then it's on to a long set of Sisters of Mercy, Wumpscut, Skinny Puppy, and anything else that makes it feel like every day is Halloween.